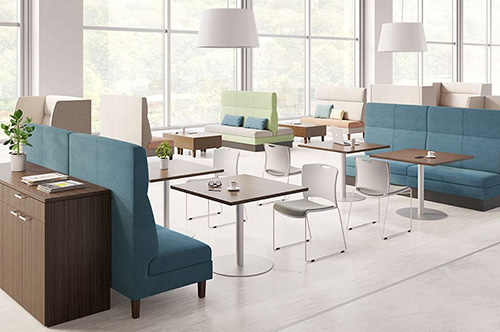 Break Room Office Furniture
Break rooms are some of the most important rooms in offices. Office break rooms allow employees to gather, socialize, and simply take a break from work. Workers look forward to spending time in break rooms because they can help them take a pause from their day-to-day work duties. These rooms are great for reducing stress and can also be used as a reset from a difficult conversation or decision. A lot of people also use break rooms as a place to enjoy snacks/meals and bond with their teammates. Furniture for break rooms depends on the size of your team and what purposes you want the room to serve. Once you identify these two main factors, it will be easy to choose break room office furniture for your workplace.
Why Update Your Break Room Office Furniture?
Investing in quality office furniture can be a great motivation for current employees and an incentive for potential future employees. Updating the furniture in your office's break room can encourage a more cohesive work environment where everyone feels comfortable and welcomed. Additionally, well-planned break rooms can be a great place for employees from different departments to interact and engage in meaningful discussions that would otherwise not take place.
Different Types of Break Room Furniture
Lounge Seating for Office Break Rooms: Lounge seating in office break rooms includes couches, sofas, and accent chairs that make it comfortable for employees who want to use the break room. The right type of lounge seating in an office can facilitate productivity while acting as a vehicle for team bonding. The best lounge seats for break rooms in offices are versatile and sometimes mobile. Consider getting one large lounge seating area like a couch and additional armchairs or accent chairs to complement it. When choosing your pieces, think about color, fabric, and the amount of upkeep you will be able to maintain to keep the furniture clean.
Chairs for Office Break Rooms: Popular chairs for office break rooms include stackable chairs, nesting chairs, and accent chairs. It is a good idea to have a variety of seating options in office break rooms to meet different employees' needs.
Storage Cabinets for Office Break Rooms: Available in different sizes and styles, storage cabinets provide space for pantry items, utensils, and additional supplies that you regularly need, but don't want to be strewn about the office. Storage cabinets in office break rooms are perfect for keeping the office organized while having essentials out of sight – but not out of mind.
Get Break Room Furniture from B.I.L Office Furniture and Total Office Interiors Today
Since our inception in 1982, B.I.L Office Furniture and Total Office Interiors has been a premium provider of functional and stylish office break room furniture (and general office furniture!) We carry products manufactured from reputable brands to guarantee high-quality standards, durability, and reliability. Whether you are planning to completely renovate your breakroom or simply want to replace a few old pieces, B.I.L Office Furniture and Total Office Interiors have what you need. Contact us today for a free initial consultation and learn how we can enhance your space.
For questions about office break room furniture, call us today at 718-417-0500 in NY or 201-651-0700 in NJ!