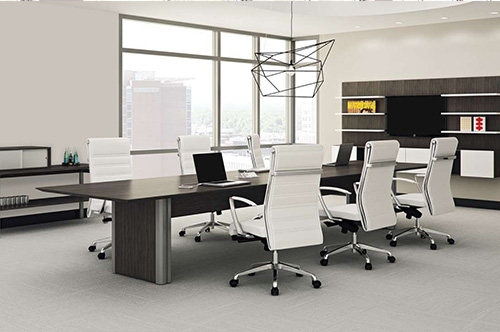 Conference Room Furniture
Conference rooms are some of the most important rooms in an office. In addition to being used for business conferences, conference rooms can be used to hold important brainstorming sessions, make presentations, and team bonding. As some of the largest rooms in the office, and probably one of the few places that large groups or the entire team can gather, conference rooms deserve top-of-the-line office furniture. The way one furnishes a conference room depends on the number of people intended to be inside of it at any given time as well as how it is to be used.
The Importance of Quality Conference Room Furniture
Whether for hosting an executive meeting or training employees, conference rooms should facilitate productivity while keeping everyone comfortable. The furniture inside of a conference room needs to be geared towards the business' purposes. For example, U-shaped tables work well if the goal is to have a collaborative conversation. On the other hand, having a few small round tables can be better for more intimate group discussions. In addition to tables, ergonomic conference room chairs offer great back support to those who may find themselves spending several hours in discussion. Both the chairs and the tables should be in the right dimensions to allow employees to easily take notes, receive handouts, use laptops, and interact with others. Furthermore, it is important that the conference room furniture and the way it is set up allow the audience to focus on the speaker during presentations. The last thing you want is people fiddling with chair height during an important meeting.
Conference Room Furniture Recommendations
Conference Tables: Over the years, conference tables have evolved in terms of function and design. These days, there is a wide array of conference tables with built-in technology to improve productivity. Popular options include microphones, projectors, or desktop computer compartments that can be used during meetings. The right conference table enables employers and employees to carry out seamless, uninterrupted meetings while portraying the company in the best light towards clients and visitors.
Comfortable Chairs: Everyone should be physically comfortable in a conference room, regardless of whether they are clients one is trying to impress of fellow colleagues. By choosing supportive, ergonomically designed conference room chairs, everyone in the meeting can focus on what matters most: the content of the meeting.
Find Conference Room Furniture at B.I.L Office Furniture and Total Office Interiors Today!
At B.I.L Office Furniture and Total Office Interiors, we offer quality conference room furniture at the most competitive prices. With everything from brand-name conference room tables to ergonomic seating and chairs, B.I.L delivers on luxury, comfort, and value. By working with our team of expert interior professionals, you will receive a thorough assessment of your space to determine exactly the kind of conference room furniture you need. Tell us your vision of how you would like your conference room to look and feel, and we will make it happen.
If you have any questions about conference room furniture from B.I.L Office Furniture and Total Office Interiors, call us today at 718-417-0500 in NY or 201-651-0700 in NJ !