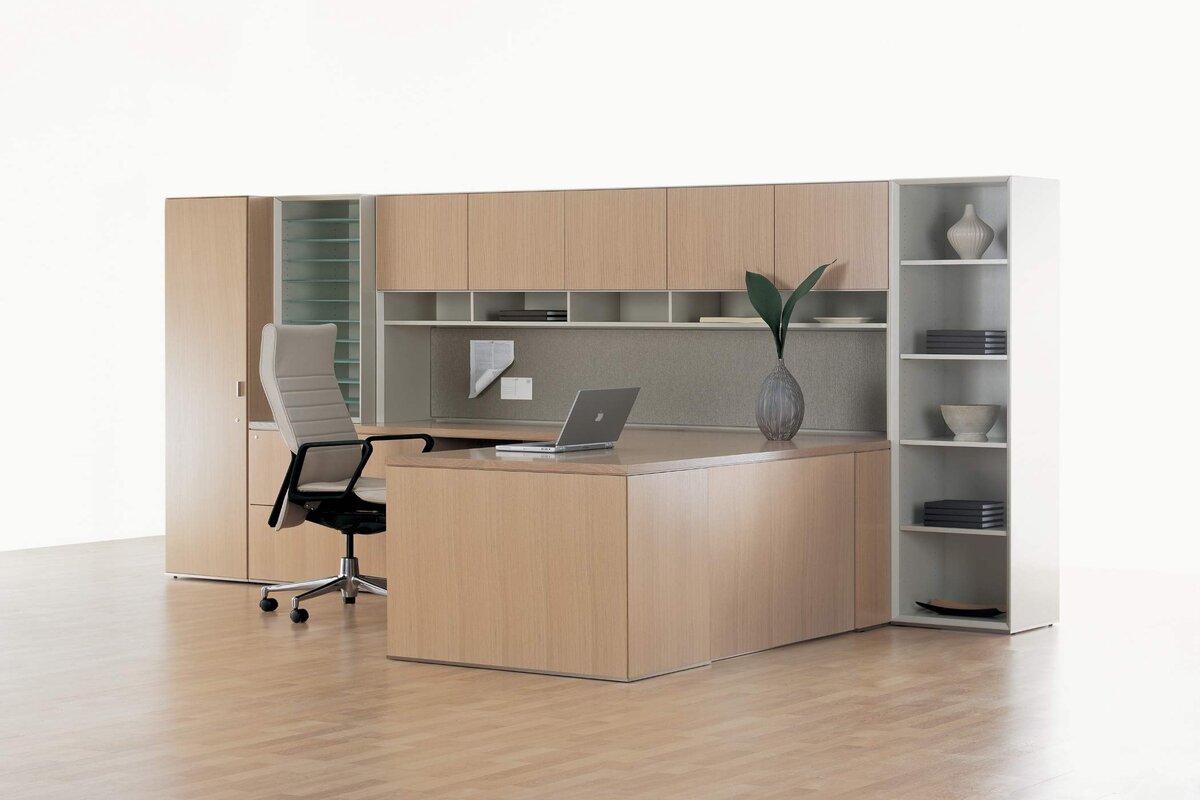 Executive Office Furniture
Every office has its own way of furnishing a workspace to make it unique and distinct to the company. Entry-level employees may have one type of office furniture, while executives require a style that gives them more space to spread out and host clients. Office furniture should echo the function for which it will serve, which is why it's paramount to an executive's office to choose the right executive office furniture.
Executives perform different duties than their entry-level or mid-level counterparts, so their office furniture should reflect that. From conducting B2B client meetings to holding Zoom interviews, execs' needs vary greatly. Some require personal discussion rooms outfitted with circular tables while others call for long, family-style conference rooms to conduct big business. Whatever your needs as an executive, B.I.L Office Furniture and Total Office Interiors has the solution for you.
Understanding Executive Office Furniture
Functionality, form, and professionalism are key elements when choosing office furniture for executives. Some fundamental types of executive furniture include:
Executive desks: Desks for executives are one of the most important aspects of all of the furnishings. Executives' desks serve as both an everyday workspace on top of which one can put their computers and other devices, as well as a table for conducting business. Desks for executives should be sizeable and sturdy enough to hold the basics like an office phone, paperwork, writing utensils, and more.
Executive Office Chairs: Executives need comfortable office chairs that allow them to easily conduct business. Chairs should cater to the execs' preference and can range from swivel to stationary to adjustable. Additionally, there should also be at least one other chair (preferably two) for when colleagues or clients come in for meetings and to discuss business.
Filing and Storage Cabinets: Keeping offices organized is crucial for any executive. Filing and storage cabinets are necessary for housing important documents and information that can be easily accessed.
Executive Office Seating: For executives who like to conduct business or have casual conversations in an informal manner, an executive office couch is a way to go. This is especially great for executives who want to look at their counterparts in the eye and physically be on the same level.
Executive Coffee Tables: Lower desks or coffee tables can be a great way to break up the room while providing a surface on which one can lay documents, paperwork, or beverages during meetings.
Why Invest in Executive Office Furniture
Below are just a few reasons to invest in quality executive office furniture:
Exude the Right Atmosphere: As the highest-ranking staff members in the company, executive office furniture needs to exude professionalism. The right choice of furniture can speak volumes while conducting negotiations and increasing motivation.
Promote Positive Workplace Environment: While the need for professionalism is paramount, a positive workplace cannot be overlooked. Everyone from colleagues to business partners to employees should feel welcome to come into an executive's office for a discussion. Furniture for executive staff members must be a perfect balance between professional and comfortable.
B.I.L Office Furniture and Total Office Interiors is the Leading Provider of Executive Office Furniture
If you are looking for modern, functional, and affordable executive office furniture, B.I.L Office Furniture and Total Office Interiors is the place to go. Since our inception in 1982, we have established ourselves as a leading provider of quality office furniture to businesses in New York and the surrounding regions. With a commitment to transforming visions into realities, B.I.L always considers the unique needs of our clients when recommending office furniture and design.
To learn more about our executive office furniture or place an order, contact us today. You can also call B.I.L Office Furniture and Total Office Interiors at 718 417 0500 in NY or 201-651-0700 in NJ.