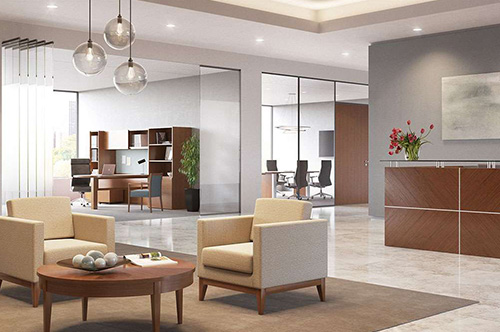 Reception
The reception area sets the tone of any office. Just as a receptionist should be friendly and inviting, so too should the reception area. This is the first place clients and visitors will see when they come to an office, so it is important that it is warm and welcoming. No matter the industry, the right furniture, design, and layout can make all the difference in an office reception area.
Reception Areas in Offices
People often talk about how important it is to "set yourself up for success." This includes setting up your space for success. Well-designed offices consider everything, from the entryway to the exit. Because reception areas are the first things clients see when they walk into an office space, it is essential that they reflect the atmosphere companies want to convey. Designing reception areas with uninterrupted flow, comfortable seating, and a good layout creates a positive environment for both visitors and employees. The number one trick to a great reception area is to find the right furniture. B.I.L Office Furniture and Total Office Interiors are here to help you do just that.
Popular Office Reception Furniture
Lounge Seating: Comfort is of the utmost importance in reception areas. Companies and businesses want guests to feel welcome and comfortable from the moment they walk in. That's why office lounge seats and chairs are the perfect seating options for reception areas. There are so many high-end yet comfortable couches and accent chairs available from which to choose, making it easy to find the lounge seating that best fits your business's aesthetic.
Tables for Reception Areas: As a general rule, reception area tables should be relatively low to the ground to match surrounding seating. Small side tables that accompany seating are perfect for filling out paperwork or resting a beverage. When selecting reception area tables for offices, we recommend sticking with one style or theme and making sure it complements the seating. For example, if the armchairs you have chosen for the reception area seating area in a mid-century modern style, the tables should follow suit. Keeping everything in the same style will create a more cohesive look in any space.
Get Office Reception Furniture from B.I.L Office Furniture and Total Office Interiors Today!
B.I.L Office Furniture and Total Office Interiors has been creating unique, durable, and long-lasting office reception furniture for businesses since its inception in 1982. We cater to businesses in New York and the surrounding areas. B.I.L is well known for the value we deliver. Our high-quality office furniture is available to customers at exceptionally affordable prices to ensure our clients can furnish their offices exactly as they choose. B.I.L works with many popular office furniture brands, giving our customers complete peace of mind that the furniture they receive is of top quality. Our team of customer service representatives has extensive experience working in the office furniture space and will make sure that your office looks and feels exactly as you envisioned it. Contact us today to learn more.
If you have additional questions about office reception furniture, call us today at 718-417-0500 in NY or 201-651-0700 in NJ!