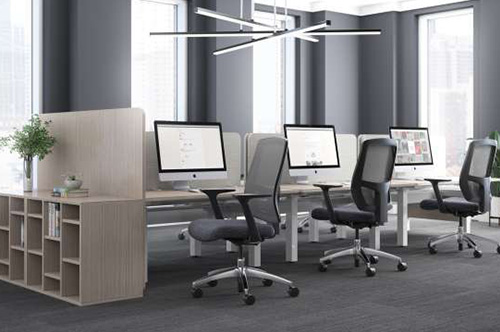 Workstations
What is a workstation? Simply put, it is where the daily tasks of your employees are carried out. It's where your employees will spend most of their day getting work done for your company. As a result, it is extremely important that workstations are built for the highest possible level of productivity. It has to be a conducive place for employees to carry out tasks and maintain the daily operations of your business. Below we will explain the importance of workstations and why this type of office furniture is such an integral part of every business.
Why are Workstations So Important?
As mentioned, workstations are extremely important as they are where most of your employee's work will get done. As such, the level of comfort that your employee feels at their workstation is directly related to how productive they are. If they are working in a place with poor lighting, uncomfortable seating, and a crowded and messy set-up, chances are they won't feel very motivated to work at all. This can put your employees in a bad mood and result in a negative working attitude. They will not be able to focus on the task at hand and processes around your office typically become much less productive.
Why Should You Update Your Workstations?
Updating your workstations is beneficial to your company because it shows your employees that you care about their well-being. The fact that you are willing to invest time and money into refurbishing their workstations by offering better technology or changing their furniture, will help them feel valued by the organization. This within itself is a motivator. Furthermore, updating your employee's workstations can change the appearance of your entire office. Clients or visitors who come into your workspace will be given an impressive first impression noticing the level of professionalism by the setup of your office.
Examples of Workstation Furniture
Desks: You can choose from a large variety of workstation desks. A popular choice these days is the modular desk. These types of desks can help increase productivity by helping employees become more organized and by providing them with a larger and more conducive working desk space.
Chairs: These days, ergonomic chairs are all the hype – and not without good reason. These types of chairs can help employees remain productive at their desks for longer periods of time before fatigue sets in. A comfortable chair is an integral factor in your employee's work output.
Get Workstation Furniture from B.I.L Office Furniture and Total Office Interiors
If you are looking for workstation furniture, B.I.L Office Furniture and Total Office Interiors have got you covered. We offer a wide variety of a range of office furniture that is reliable and long-lasting. We are proud to carry office furniture brands that are popular and known in the industry as high-quality brands. When you work with us, you can also enjoy a free starting consultation which will advise you as to what kind of furniture is best suited for your specific business.
Should you have any questions about our furniture for workstations, call us today at 718-417-0500 in NY or 201-651-0700 in NJ!