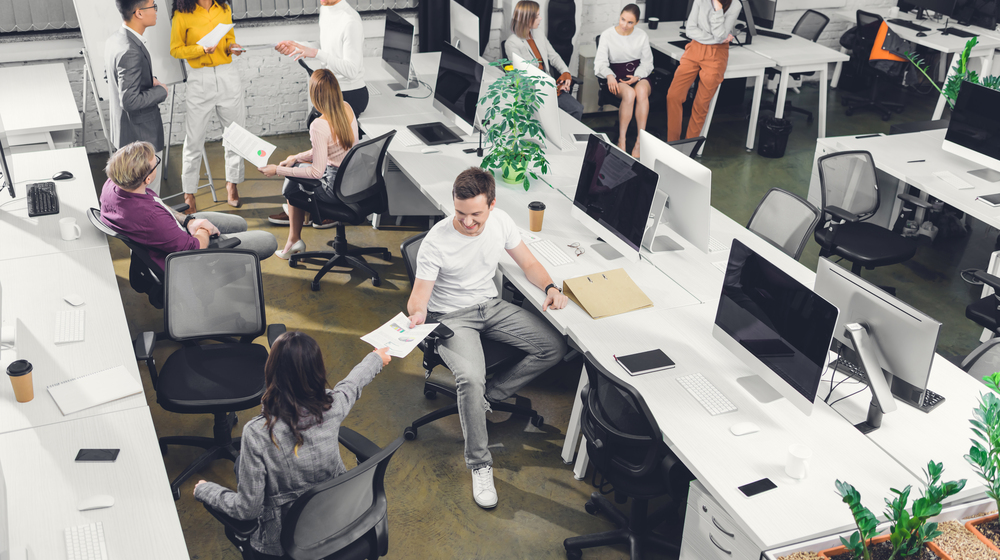 The right corporate office furniture is essential for creating a comfortable and productive work environment where employees can thrive. When choosing furniture for your office, it's crucial to consider each piece's functionality, style, and comfort. Whether you're moving into a new office space, or revamping your current one, here are the different types of essential corporate office furniture that you should know about:
1. Desks
Desks serve as the focal point of any workspace and come in diverse shapes, sizes, and materials. Popular desk materials include the classic warmth of wood, the sleekness of metal, and the modernity of glass.
A desk should be sturdy enough to hold a computer, monitor, keyboard, and other office essentials. Additionally, desks with built-in storage drawers or shelves can also help keep your workspace organized.
2. Chairs
Staying comfortable throughout your work day starts with having the right office chair; this can do wonders for comfort and productivity. A great office chair should have adjustable height and tilt, comfortable cushioning, and proper lumbar support.
Extra features like armrests, headrests, or footrests are equally important. As employees spend most of their days working from their desks, incorporating comfortable and ergonomic chairs can make all the difference in their productivity and mood.
3. Bookcases
In any corporate setting, disorganization can become a problem without the right tools in place. Bookcases can be an excellent addition to your corporate office furniture, providing a functional and stylish storage solution. With various sizes and styles available, you can choose a bookcase that complements the aesthetic of your office.
Traditional wooden bookcases can add warmth and sophistication, while modern metal bookcases can bring about a sleek and contemporary feel. Doors or drawers can be added for extra storage and organization, keeping your office tidy and clutter-free.
4. Filing Cabinets
Filing cabinets are essential for keeping your office organized. They come in various sizes and styles, including vertical and lateral filing cabinets. A vertical filing cabinet is ideal for smaller spaces, while a lateral filing cabinet is great for larger offices with more storage needs. Some filing cabinets also come with locks to keep your documents secure.
5. Conference Tables 
A conference table is a vital piece of corporate office furniture for any office that holds regular meetings or group discussions. It not only provides a space for team collaboration but also sets the tone for professionalism in the workplace.
Conference tables come in a variety of shapes and sizes, including rectangular, oval, and round, and can be made of different materials such as wood, glass, or metal. When choosing a conference table, consider the size of your team and the frequency of your meetings. The right conference table should be sturdy and spacious enough to accommodate your team and any presentation equipment, such as laptops, projectors, or teleconferencing equipment.
Some conference tables also come with built-in power outlets and cable management systems to keep your workspace organized and clutter-free. Investing in a high-quality conference table can enhance team collaboration and boost productivity in the workplace.
6. Reception Furniture
First impressions count, which is why choosing high-quality, inviting reception furniture is essential for creating a welcoming and professional atmosphere in your office. This includes items such as reception desks, chairs, and sofas. A reception desk should be large enough to hold a computer and other office equipment and provide enough space for a receptionist to greet visitors. Reception chairs and sofas should be comfortable and stylish while providing proper support for guests.
7. Storage Cabinets
Storage cabinets are great for storing office supplies, documents, and other items. They come in various sizes and styles, including freestanding cabinets and wall-mounted cabinets. A freestanding cabinet is ideal for larger offices with more storage needs. In contrast, a wall-mounted cabinet is great for smaller spaces. Some storage cabinets also come with locks to keep your items secure.
Why Invest in Corporate Office Furniture?
Smart furniture selection and placement can make all the difference in boosting employee morale and productivity on a day-to-day basis. Moreover, they tend to benefit not only the employees but also the business due to the better image created by superior office furniture and stylistic decisions. Storage solutions can also go a long way towards making your office feel more open and clutter-free. Ultimately, investing in high-quality corporate office furniture is a decision worth making!
Find the right corporate office furniture for your space at B.I.L Office Furniture and Total Office Interiors. As a full-service office furniture provider, we have the experience, skills, and capacity you need. From space planning to design and installation, we do it all. Contact us today for a free consultation!