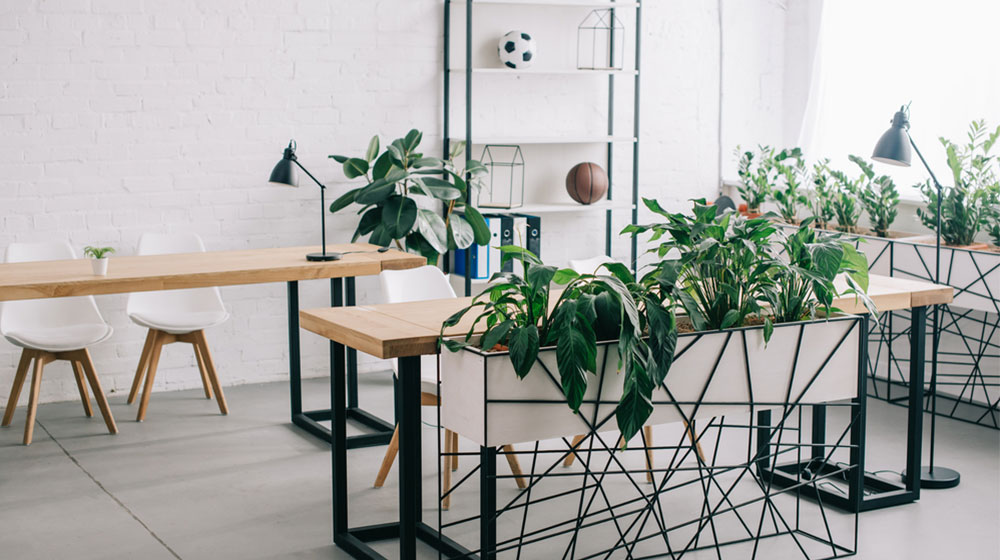 Looking to furnish a whole new office, or add complementary affordable office furniture to spice up an existing space? A comfortable office that inspires its employees to attain the height of productivity doesn't have to break the bank. While it is true that a larger budget grants more freedom when it comes to workspace design, a smaller budget can still go a long way! All you need to make a smaller budget work is a little creativity. Our list of the 4 best kinds of affordable office furniture provides inspiration for offices working with tighter budgets.
1. Department Dividers
When it comes to an empty office space, anything is possible. An open office plan not only boosts the creative atmosphere of an office, but it's also cost-effective. A workspace that is already partitioned into rooms and a reception area can turn into an expensive furniture endeaver, but the blank slate of an empty space offers endless possibilities. Opt for modular office walls that allow offices to function where, how, and when they need to. An accordion wall can be pulled out for some quiet during a department meeting and pushed back in when it is time for a cross-department lunch. Open offices are hubs for interaction and dynamism, and they are also the more affordable option for growing businesses, making department dividers a great affordable office furniture addition to your office.
2. Standard Desks
Being on a budget can make it difficult to purchase furniture that comes with extra utilities. That does not mean that employee comfort should be sacrificed. Goalpost frame or cantilever desks are options that are both inexpensive and functional. These are standard pieces of affordable office furniture that allow employees space to lay out all their materials, as well as provide ample leg room or space beneath that can be used for storage.
3. Task Chairs
Luckily, upholstered task chairs are both cost-effective and comfortable. In a high-powered office where employees are always on the go, office stools can also be an option for meeting rooms. They are comfortable enough to keep employees happy, yet exude an air of dynamism to remind all present to pack as much power as they can into a short meeting – this means no wasting time. A team can get into the meeting room, hash out the essentials, and head out to get the job done as time requires. Task chairs tend to be a perfect affordable office furniture option for spaces in dynamic, urban-oriented industries.
4. Metal Storage Solutions
Filing cabinets and all other storage solutions are a must for any office. Even offices with no-paper policies will find that having storage space helps to declutter. Store office odds and ends in metal storage – the inexpensive alternative to other forms of storage. Functional yet sleek, metal storage does the job without any fuss. These affordable office furniture solutions also come in various furnishes to prove that being on a budget does not mean having to skimp on style.
Get the Best on a Budget
Being on a tight budget does not mean that the essentials have to be sacrificed. Design philosophies and employee comfort should not be sacrificed in an office space. A professional office furniture company can help give advice for any budget situation – contact us at B.I.L. Office Furniture and Total Office Interiors to get started on your new workspace today!