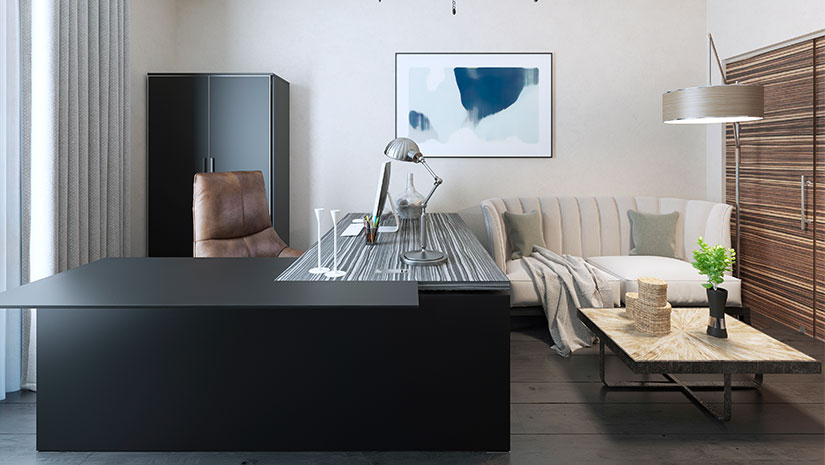 Business owners who are looking for new desks should consider the myriad benefits of an L-shaped office desk. Whether you aim to enhance your office receptionist's workspace or breathe new life into your overall office design, here are four compelling reasons why L-shaped office desks are an excellent choice.
1. Space
A key advantage of an L-shaped office desk lies in the space it offers. Need to accommodate a printer, one or more computer screens, or various other items on or within the desk area? L-shaped office desks afford ample space without encroaching on the surrounding area. If clutter seems to be a persistent problem for employees, an L-shaped desk could offer a solution. They also come in an array of configurations, enabling you to select the style that provides the optimal storage solution for your employees. Consider those with closed and open storage compartments for added flexibility.
2. Diversity
Although the term 'L-shaped desk' might evoke a specific image, these desks come in a vast variety to match not only your needs but also the overall aesthetics of your office. Some L-shaped office desks allow for mixing and matching of elements, enabling you to choose from a variety of storage units, worktables, and workstations that meet your specific needs. This approach might work best for a single desk, like for a reception area, but could be challenging if applied to multiple employees. Looking to refurbish or set up a new reception area in the office? Here are nine essential items for the office reception area to help get started.
3. Ergonomics
An ergonomic workstation is essential for productivity. Employees perform best when they feel comfortable, and this type of desk provides ample space for stretching. While an L-shaped desk already offers more space and comfort than an average one, an adjustable, ergonomic L-shaped office desk can further enhance employees' comfort, which will reflect in the quality of their work. Here are four office upgrade tips for maximum comfort and productivity to check out.
4. Cost
L-shaped office desks boast enhanced durability and mobility. Adjustable models also allow optimization of office space since the desk elements can be fitted to the space requirements. While these types of desks might cost more than a regular one, the costs are not exorbitant – in some instances, such a desk might be more affordable than expected. The comfort, efficiency, and additional space that an L-shaped office desk provides certainly justify the extra cost.
B-I-L Office Furniture and Total Office Interiors have been supplying L-shaped office desks and other office furniture solutions to businesses in the tri-state area for over 30 years. If you are looking to enhance your current office space with a new design and updated office furniture, contact us today for a free consultation!