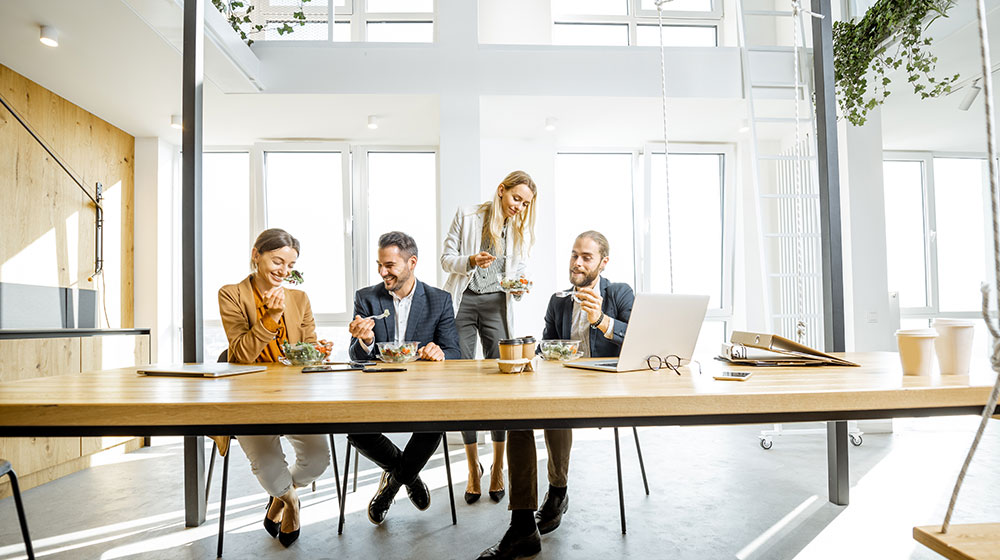 A break room is more than just a place for workers to have lunch or grab a sip of water in between emails. It's a place to get away from the pressures of work and really take a break. As a gathering place for coworkers to socialize and relax, the break room is the perfect place for employees to recharge their batteries and refocus so they can stay as productive as possible.
Working in an office comes with plenty of perks, but that doesn't mean employees don't get burnt out. When that happens, they need a place to take a load off and clear their heads. Enter the break room. A break room needs to be equipped with proper furniture to help employees reduce stress and really feel at ease. So where do you start? This thorough guide to break room furniture may be just what you need.
Break Room Tables
Standard height, counter height, and bar height tables are all excellent options for a break room. Some companies even put all three heights in the breakroom to give people options and create visual dimensions. Plus, offering various height tables means there are more seating options as well. This bodes well for those who like to sit at high-tops as well as those who prefer to have their feet on the ground. Something else to consider is wheelchair accessibility. For this, it's imperative to add some ADA-height approved break room tables (between 28″ and 34″ tall with at least 27″ of knee clearance below the table).
Break rooms with couches should also have coffee tables and end tables for added comfort and a lounge type of feel. A strategically-positioned coffee or end table is perfect for holding drinks, food, laptops, and magazines.
Break Room Seating
Every break room needs good seating options. Break room furniture may range from café chairs and bar stools to plush, comfortable lounge chairs. Alternatively, some people want break room seating with stackable alternatives and nested seats. Benches and booth seating work well for accommodating a lot of people in small spaces.
As for coziness and premium comfort, lounge chairs offer employees the opportunity to unwind when on a work break. Club chairs, sofas, ottomans, and other soft seating frequently seen in home living rooms can be used as break room seating as well.
Break Room Storage
While it would be ideal if there was a separate storage room, some offices are short on space, which means that the break room has to double as a space for storage. Credenzas and portable storage carts make good options, as do cupboards and cabinets. A common consideration for storage furniture in the break room is a coat rack, giving employees a designated place to store their coats and umbrellas and keep the rest of the office space neat and tidy. Magazine racks can also prevent the area from getting too cluttered and disorganized with magazines strewn across tables. Plus, this way your staff will always know where they can find something to read and relax when they're on a break.
Refrigerators and drinks coolers are also essentials when purchasing break room furniture. Pro tip: make sure to get the right size refrigerator/freezer/cooler to accommodate everyone in your company so they all have space to store their lunches.
Break Room Accessories
Last but certainly not least are the accessory pieces of furniture and appliances for the break room. These include trash cans, recycling bins, coffee makers, and bulletin boards for company-wide announcements.
If your break room has a door that opens to the outside, floor mats are very important. This ensures dirt and debris from the outside won't be tracked into the workspace. Additionally, a doormat can protect workers from sliding on a wet floor after a heavy snowfall or rain.
B.I.L Office Furniture and Total Office Furniture is here to help you design your company's perfect break room and fill it with all the break room furniture you need. Want to learn more? Contact us today!